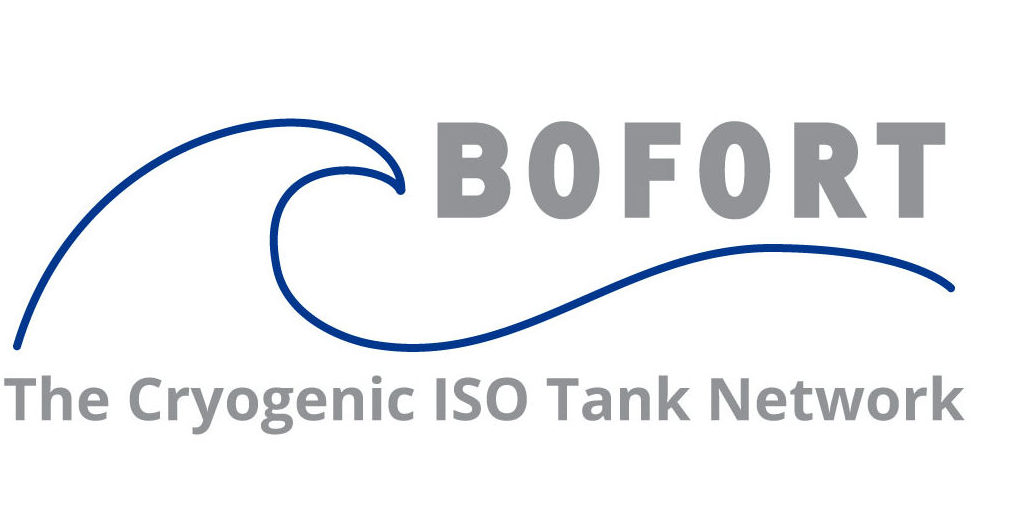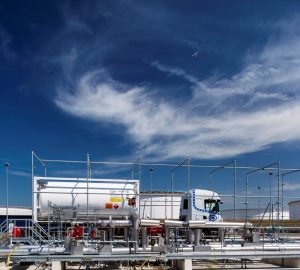 Bofort ISO cryogenic tank loading at Fluxyshttps://www.fluxys.com/en/company/fluxys-belgium
LNG transportation and ISO tank rental – LNG (UN1972)
Source
Liquefied natural gas (LNG) is natural gas (predominantly methane, CH4, with some mixture of ethane C2H6f) that has been converted to liquid form for ease of storage or transportation. It takes up about 1/600th of the volume of natural gas in the gaseous state. It is odourless, colourless, non-toxic and non-corrosive. Hazards include flammability after vaporization into a gaseous state, freezing and asphyxia.
The liquefaction process involves the removal of certain components, such as dust, acid gases, helium, water, and heavy hydrocarbons, which could cause difficulty downstream. The natural gas is then condensed into a liquid at close to atmospheric pressure by cooling it to approximately −162 °C (−260 °F); maximum transport pressure is set at around 25 kPa (4 psi).
A typical LNG process.
The gas is first extracted and transported to a processing plant where it is purified by removing any condensates, such as water, oil, and mud, as well as other gases, such as CO² and H2S.
An LNG process train will also typically be designed to remove trace amounts of mercury from the gas stream to prevent mercury amalgamizing with aluminium in the cryogenic heat exchangers.
The gas is then cooled down in stages until it is liquefied. LNG is finally stored in cryogenic tank containers and can be loaded and shipped.
LNG achieves a higher reduction in volume than compressed natural gas (CNG) so that the (volumetric) energy density of LNG is 2.4 times greater than that of CNG or 60 percent that of diesel fuel.[1] This makes LNG cost-efficient to transport over long distances where pipelines do not exist. Specially designed cryogenic sea vessels (LNG carriers) or Bofort ISO Containers are used for its transportion.
Applications
LNG has a low carbon footprint and very low emissions compared to other fossil fuels. It can also offer significant cost benefits for fuel usage.
LNG is principally used for transporting natural gas to markets, where it is regasified and distributed as pipeline natural gas.
It can be used in natural gas vehicles, although it is more common to design vehicles to use compressed natural gas. Its relatively high cost of production and the need to store it in expensive cryogenic tanks have hindered widespread commercial use.
Despite these drawbacks, on an energy basis, LNG production is expected to hit 10% of global crude production by 2020. Learn more about LNG
LNG Tank Hire
Bofort has substantial expertise in serving the LNG market. Our 10 ft, 20 ft and 40ft LNG ISO tank containers can be used in many applications for LNG. Learn more about LNG ISO tank capacity and LNG ISO tank specifications. Our tanks have been deployed around the world to provide –
Storage
Ship bunkering
LNG cooldown of storage facilities
Cylinder filling
Milk run distribution for serving filling stations
Mobile fuel stations
Virtual pipelines
We work with our customers to ensure our tanks can meet the often complex technical requirements of unloading. Ship bunkering or marine refuelling is a rapidly growing application for LNG requiring detailed project management. Our tanks are fitted with pressure build-up units which can be augmented by additional skid-mounted PBUs to meet the challenges of unloading with sufficient differential pressure.
We also have expertise in fitting LNG pumps and metering to our tanks to allow them to be used to fill small-scale LNG facilities. Our tanks also have PED / CE – approval allowing them to be used for storage.
We can fit couplings and obtain approvals that allow our tanks to be loaded at major LNG facilities.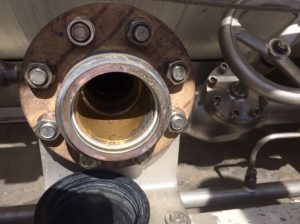 Our tanks regularly visit. Fluxys Terminal in Belgium, Gate Terminal in Holland, and the Isle of Grain in the U.K.
Link to gate terminal
Gate terminal bouwt eerste LNG-importterminal in Nederland met toegang tot Noordwest-Europa.
Link to Isle of Grain terminal
The leading LNG importation terminal in the UK. The world-class facility delivers the highest standards of performance in a range of services. We are the leading LNG importation terminal in the UK. Our world-class facility delivers the highest standards of performance for our customers.
Advantages of Bofort:
Safety: Bofort tanks are built to the highest international safety standards and are compliant with all international regulations. They are the safest way to transport specific quantities of cryogenic gases in bulk.
Intermodal: Our tanks are able to be carried using all modes of transportation: truck, train, barge or ship.
Ecological: Because of our tanks' suitability for intermodal transportation, the distribution of gases in bulk over medium and long distances can be via environmentally-friendly means, such as rail, barge and short-sea.
Intermediate storage: With holding times of up to 100 days (depending on the type of gas and climate conditions), our tank containers offer flexibility to transport and store LNG and other gases in the supply chain as 'moving pipelines.' Mobile buffer tanks for large industrial cleaning and maintenance jobs, pipe purging, etc.
Economic: As a result of the above, our cryogenic tank containers often result in the optimisation of the supply chain and monetary savings.
LNG Tank Rental
Short-term LNG tank rental services
We keep a stock of LNG ISO tank containers at designated depots to cater to short-term needs in the market, including LNG ISO tank hire, LNG ISO tank lease and LNG transportation Rental periods: 1 week to 6 months.
LNG ISO tank operating leasing
We offer UN1972 LNG ISO tank container rental services under medium and long-term operating lease structures for clients who are looking for operational and financial flexibility.
LNG tank finance lease structures
LNG ISO tank container leasing services are also available via finance. Our tailor-made finance lease structures on selected cryogenic tank equipment can accommodate clients' specific capital structure needs and requirements.
Consulting
In addition to its cryogenic tank container rental and leasing services, Bofort advises on and arranges lease structures for specialist cryogenic equipment such as vaporizers and LNG cryogenic pumps.
Fleet Management
Bofort offers its services for the management of your LNG gas transport, LNG transport trailers and tank container fleet. We can act as your agent or representative in the acquisition and disposal of your tank containers.
If you need mobile LNG storage or temporary LNG storage contact us to find out more.
Contact us