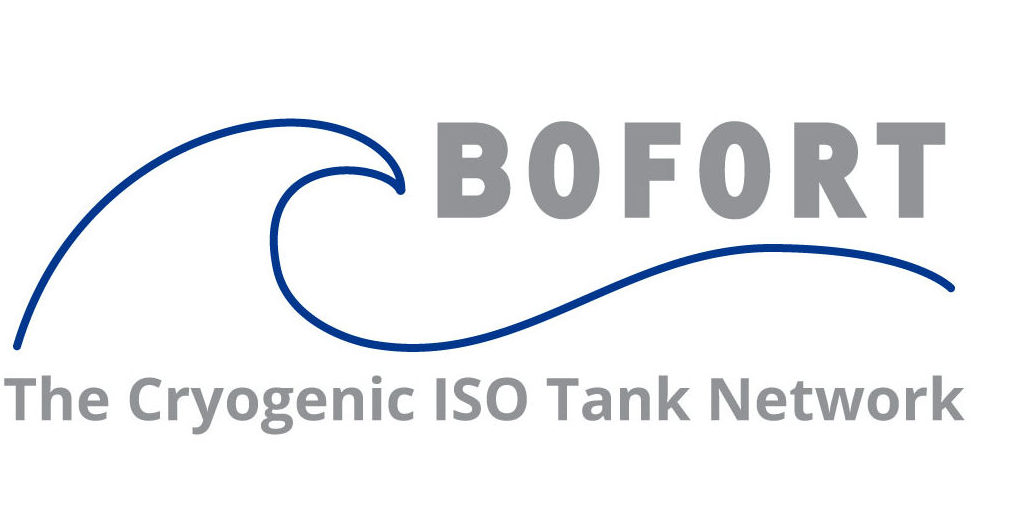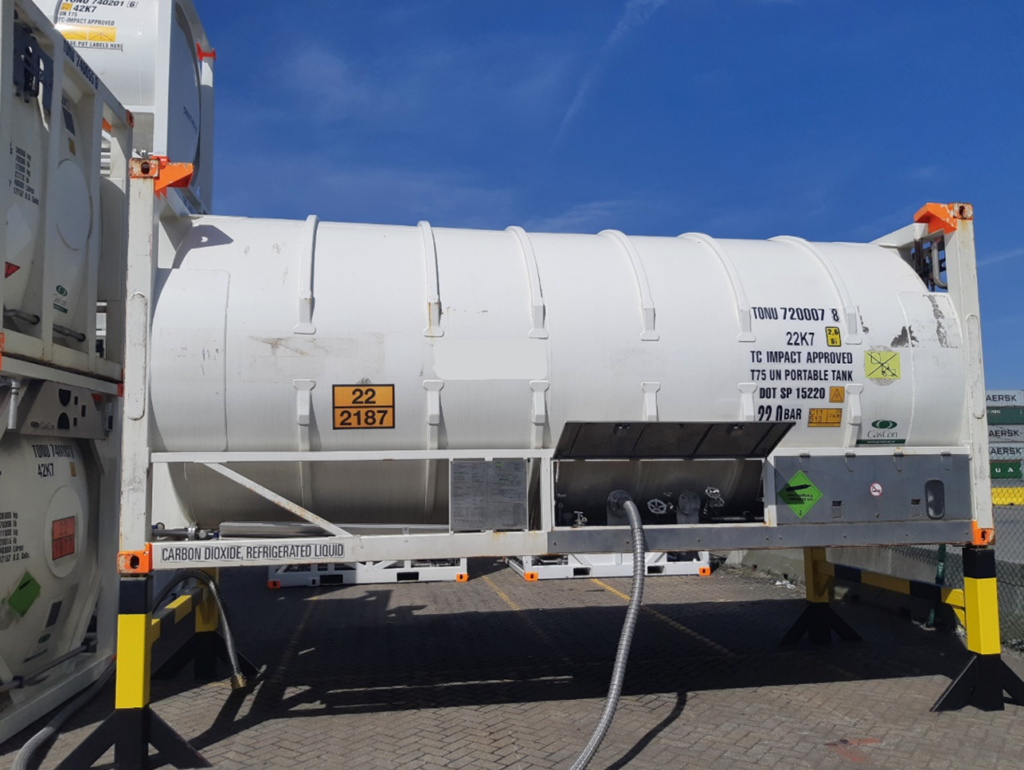 CO2 Transportation and ISO tank rental – Liquid CO2 (UN2187)
CO2 ISO tank leasing:
Although CO2 is not a Cryogenic gas, our tanks are suitable for CO2 transportation.
Source
Carbon dioxide is sourced from gas streams at chemical plants and as a by-product of the commercial production of hydrogen and ammonia. It can also be recovered from fermentation processes for example in the production of ethanol.
Applications by our clients:
Our tanks are suitable to carry CO2 liquid and have been deployed extensively in the food, beverage and healthcare industries. We are familiar with the complexities of avoiding contamination and work with our customers to ensure the tanks meet their exact specifications.
In Europe, the biggest supply of CO2 comes from ammonia plants and the uncertainties of supply have been well documented. Production has been affected by shutdowns of ammonia plants (for use in fertiliser) for maintenance and repair.
Our liquid CO2 tankers can provide useful cover in the supply chain either through sourcing and delivering CO2 or by providing:
Onsite modular CO2 storage
Temporary CO2 storage.
Mobile CO2 storage
We can fit our tanks with a CO2 pump as shown below. If the unloading facility has no pump, the tank-based pump can be used for efficient unloading.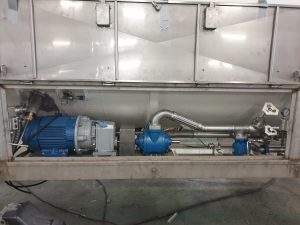 We are keen to work with customers developing applications for CO2 in areas including:
Dry ice blasting which is a relatively environmentally friendly cleaning technique
Use in greenhouses to promote crop growth
Food and beverages including soft drinks and beer
Modified atmosphere packaging
Other uses of CO2
Carbon dioxide is used extensively as a neutralizing agent for pH control, for example, in cement curing water treatment and in many other commercially important chemical applications.
Carbon dioxide is used in many consumer products ranging from aerosol packaging to air guns that require pressurised gas because it is inexpensive and non-flammable, in the operation of pneumatic equipment and for the transfer of hazardous and flammable liquids.
Owing to its stimulating effect on the nerve centres, carbon dioxide is employed in medicine in mixtures with oxygen for reanimating victims of asphyxiation. It also serves in the treatment of certain skin affections.
A substantial volume of carbon dioxide is used for carbonating beverages such as beer and many soft drinks and conservation of wine, unfermented grape juice and various fruit juices.
Carbon dioxide is used to modify atmospheres, for example, in greenhouses where it increases plant growth rates or combined with nitrogen to prolong quality in food packaging applications (MAP – Modified Atmosphere Packaging).
Carbon dioxide, when mixed with helium and nitrogen, is used as the active medium in carbon dioxide lasers.
CO2 is used as an inerting agent for various mild steel welding operations, often in combination with argon.
Carbon dioxide is used as media for supercritical fluid extraction (SFE) in sample preparation and as a carrier gas for analytical and preparative supercritical fluid chromatography (SFC).
Liquid carbon dioxide is becoming increasingly used as a refrigerant in mechanical refrigerating systems due to its environmental credentials. It has the ASHRAE number R-744. "Dry ice", or solid CO2 is commonly used for refrigeration.
Liquid/solid carbon dioxide is used for cooling gas chromatography ovens.
Carbon dioxide is also a possible refrigerant for MAC (Mobile Air Conditioning) due to the European phase-out of tetrafluoroethane (R-134a).
Carbon dioxide is also used:
For the chemical vapour deposition of silicon dioxide.
In foam blowing.
In Coleman nitrogen analysers.
Within mixtures for car emission monitoring and environmental monitoring.
For fire extinguishing.
In combination with ethylene oxide for sterilizing purposes.
For blood analysis and dehydration of penicillin.
For the production of paints and varnishes.
CO2 Tank Rental
Bofort provides hire, lease and rental services of cryogenic ISO tank container equipment, predominantly to specialized gas transportation companies, cryogenic gas manufacturers, nitrogen service companies, and other end-users.
We build to specifications enabling us to offer as much flexibility to our clients as possible. All of our equipment is suitable to carry and store liquid nitrogen (LIN), liquid oxygen (LOX) and liquid argon (LAR).
Whilst recognizing the need to have specific dedicated equipment for specific trades and products, most of our equipment is also suitable to carry and store nitrous oxide (N²O), ethylene, ethane and liquefied natural gas (LNG).
Advantages of Bofort:
Safety: Our tanks are built to the highest international safety standards complying with all international regulations. They are the safest means to transport specific quantities of cryogenic gases in bulk.
Intermodal: Our tanks can be carried using all modes of transportation: truck, train, barge, and ship.
Ecological: Our tanks' suitability for intermodal transportation means that the distribution of gases in bulk over both medium and long distances is possible by more environmentally-friendly means, such as rail, barge and short-sea.
Intermediate storage: With holding times of up to 100 days (depending on the type of gas and climate conditions) tank containers offer flexibility to transport and store gases in the supply chain as 'moving pipelines' and mobile buffer tanks for large industrial cleaning and maintenance jobs, pipe purging, etc.
Economic: Due to the features listed above, cryogenic tank containers often optimise the supply chain and therefore monetary savings.
Short-term CO2 ISO tank hire services
We keep a stock of CO2 ISO tank containers at designated depots to cater to short-term needs in the market including CO2 ISO tank hire and CO2 transportation Rental periods: 1 week to 6 months.
CO2 ISO tank operating leasing
We offer CO2 ISO tank container rental services under medium and long-term operating lease structures for clients looking for operational and financial flexibility.
Consulting
Alongside its cryogenic tank container rental and leasing services, Bofort also advises on and arranges lease structures for specialist cryogenic equipment such as pumps and vaporizers. and pumps.
Fleet Management
Bofort offers its services for the management of your CO2 ISO tank hire, transportation of CO2 and cryogenic liquid CO2 transport truck fleet. We can also act as your agent or representative in the acquisition and disposal of your tank containers.
Contact us to find out more about our CO2 cryogenic ISO tank containers and CO2 transportation.