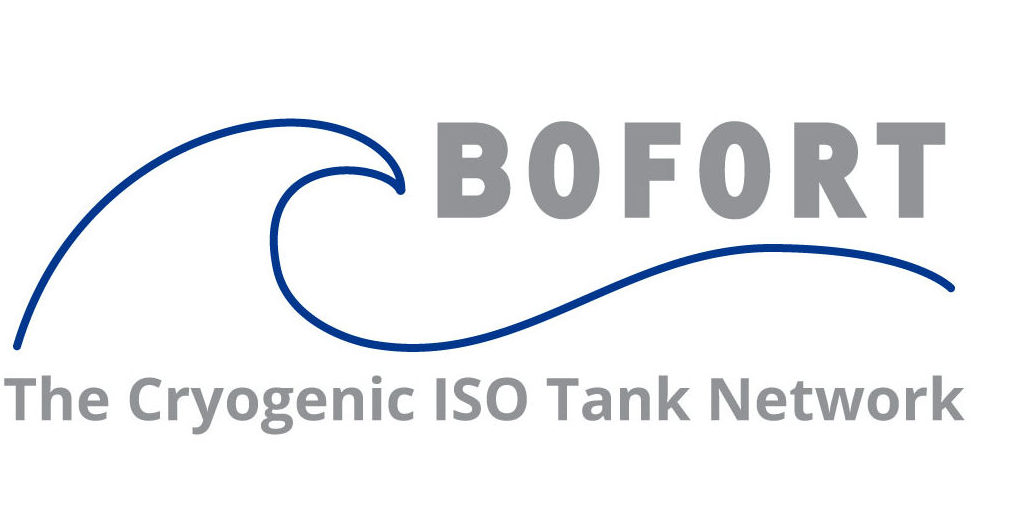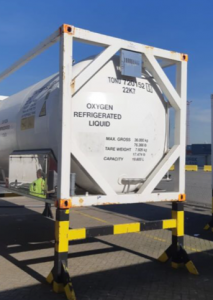 Oxygen ISO tank rental – Oxygen (UN1073)
Oxygen characteristics
Colourless and odourless gas.
Many materials burn in oxygen that does not normally burn in air.
Reduces the flash-point temperature and increases the combustion speed.
Gas density is heavier than air.
Source
Oxygen is obtained on a commercial scale by the liquefaction and subsequent distillation of air. For very high-purity oxygen, it is normally necessary to take the product from an air separation plant through a secondary purification and distillation stage. Alternatively, high-purity oxygen may be produced by the electrolysis of water. Lower purities of oxygen can also be produced with membrane technique.
Oxygen ISO tank hire:
Our 20′ iso cryogenic tank containers can be used in many applications for oxygen and can be prepared to meet a range of purities, from industrial to medical.
Applications of Oxygen
Many oxidation reactions in the chemical industry use pure oxygen rather than air in order to benefit from higher reaction rates, easier product separation, higher yields, or smaller equipment size.
High-purity oxygen is used for the formation of silicon dioxide and metal oxide, as an etchant for photoresist, and in mixtures with halocarbons for etching silicon.
Oxygen is also used in conjunction with hydrogen to fuel torches for welding, brazing, glass blowing and tube sealing for a variety of electronic components such as reed relay switches.
High-purity oxygen is used in conjunction with high-purity methane in Advanced Gas Cooled (AGR) nuclear reactors to maintain an appropriate carbon balance in the (CO₂) gas coolant in the nuclear core.
High-purity oxygen is used in the optical fibre production process.
Injecting oxygen into sewage treatment plants accelerates the decomposition of sewage.
Oxygen is used for chemical synthesis.
It is also used as an oxidiser.
Oxygen is used to supplement or replace air in burners used in many different industries in order to obtain increased temperatures. Typical applications are found in the steel, non-ferrous, glass and concrete industries, amongst many others.
Oxygen is used for flame sealing of glass ampoules for finished products for the pharmaceutical industry and the chemical industry.
In the food industry, oxygen is used in the transportation of live fish and seafood.
Oxygen is used for the enrichment of air during fermentation.
Mixed with other gases, oxygen serves in the production of breathable atmospheres (O₂ + CO₂: reanimation; O₂ + He orO₂ + N₂: underwater diving).
Oxygen is used in some cases for modified atmosphere repackaging (MAP) of foodstuffs. It is used either pure or in mixtures with carbon dioxide and/or nitrogen.
Liquid oxygen is used in liquid oxygen explosives and as a comburent in space propulsion.
Oxygen is used in the medical field, as pure gas and in mixtures.
It's also used in calibration gas.
Oxygen is used in metal-treating laser applications.
And in cutting and welding
Oxygen Tank Rental
Bofort provides lease, rental and hire of cryogenic ISO tank container equipment to:
Specialised gas transportation companies
Cryogenic gas manufacturers
On and offshore nitrogen service companies
And other end-users.
We build to specifications to offer as much flexibility as possible to our clients. All of our equipment is appropriate to carry and store liquid nitrogen (LIN), liquid oxygen (LOX) and liquid argon (LAR).
Whilst we recognize the need for dedicated equipment for specific trades and products, most of our equipment is also appropriate to carry and store carbon dioxide (CO²), nitrous oxide (N²O), ethylene, ethane and liquefied natural gas (LNG).
Advantages of Bofort:
Safety: Our cryogenic tanks are built to the highest international safety standards and comply with all international regulations. Our tanks are the safest means to transport specific quantities of cryogenic gases in bulk.
Intermodal: Our tanks are suited to be carried using all modes of transportation: truck, train, barge or ship.
Ecological: Because of their suitability for intermodal transportation, the distribution of gases in bulk over medium and long distances can be done more ecologically using rail, barge and short-sea.
Intermediate storage: With holding times of up to 100 days (depending on the type of gas and climate conditions), tank containers provide the flexibility to transport and store gases in the supply chain as 'moving pipelines' or mobile buffer tanks for large industrial cleaning and maintenance jobs, pipe purging, etc.
Economic: As a result, cryogenic tank containers often result in the optimisation of the supply chain and monetary savings.
Short-term Oxygen tank rental services
We keep a stock of Oxygen ISO tanks at designated depots to cater to short-term needs in the market, including Oxygen ISO tank leasing, temporary Oxygen storage and mobile Oxygen storage. Rental periods: 1 week to 6 months.
Oxygen ISO tank operating leasing
We offer UN1073 Oxygen ISO tank rental services via medium and long-term operating lease structures for clients looking for operational and financial flexibility.
Oxygen tank finance lease structures
Oxygen ISO tank rental and lease services are also available via finance. Our tailor-made finance lease structures are offered on selected cryogenic tank equipment to accommodate clients' specific capital structure needs and requirements.
Consulting
Alongside its cryogenic tank container rental and leasing services, Bofort is able to advise on and arrange lease structures for specialist cryogenic equipment such as vaporizers and pumps.
Fleet Management
Bofort offers its services to manage your nitrogen ISO tank hire and your cryogenic tank container fleet. We can also act as your representative or agent in the acquisition and disposal of your tank containers.
Contact us to find out more about our Oxygen UN1073 cryogenic ISO tank containers.
Contact us